Discovering Unadvertised Jobs
Hidden Job Market Accounts for 80% of Job Openings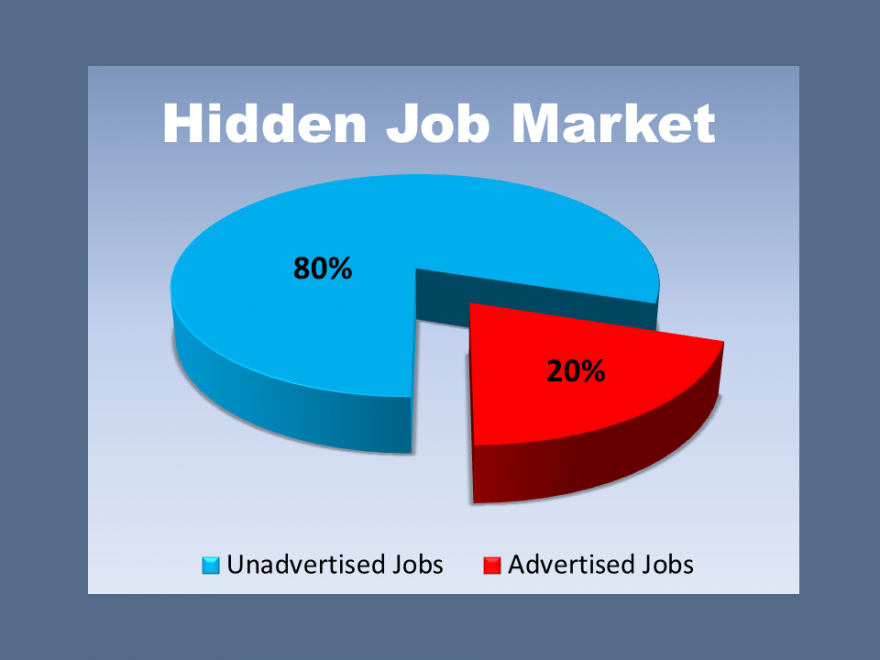 If you're conducting a typical online job search, you could be missing out on hundreds of jobs openings. You may be getting discouraged at the lack of good openings, frustrated that your application is going into the infamous black hole, and find your job search takes longer that it has to due to the small number of jobs listed and the massive competition you face for each opening.
Instead think about this: On any given day, a manager will:
Receive two-weeks notice from a valued employee
Learn that a favorite assistant's spouse has accepted a job offer in another state and will be leaving in three months
Finally receive approval to hire a new employee for a brand new or yet-to-be created position
All of a sudden finding a new employee has become a very important "to-do" on those managers' lists. But those situations are also potentially great news for savvy job seekers who are in a position to get wind of these openings before everyone else does. These unadvertised openings represent what is commonly referred to as the "hidden job market," where it is estimated that 80% of available positions exist.
Hiring managers—who need to fill these positions immediately—start thinking about how they are going to fill these positions and often dread the thought of having to go through the whole job posting thing—having to wade through stacks of off-point resumes.
That was certainly the case with Association Media & Publishing (AM&P) board member Erin, who I interviewed for "Navigating the New Job Search," an article on what makes a successful job search today for AM&P's Signature magazine.
Because Erin knew she would soon be in the market for a candidate for a brand new position but wasn't sure when the position would be official, she says she went about looking for a potential candidate in a nontraditional way.
After a board meeting, Erin casually mentioned to friend and fellow board member Diane that she was looking to hire someone for a brand new position. At the time, she had no idea that Diane was looking, but was interested in "gauging her interest," because she "knew Diane would be a great fit."
It turns out that Diane, who hadn't looked for a job in several years, was looking but waiting for the right opportunity. Two months later when the position was available, Diane applied, went through the in-depth interview process, and was hired for what turned out to be an ideal position for her. And although Diane didn't know it at the time—she was the sole applicant. She had no competition at all.
From hiring manager Erin's perspective, she got a high quality candidate quickly without the hassle of going through the often lengthy and traditional recruitment process. "I got lucky. Diane was the right fit at the right time."
Diane and Erin's existing relationship, forged through volunteering for the association, gave job seeker Diane a clear advantage. Erin had worked closely with Diane on volunteer board projects so she knew her personally, felt that she'd fit in, and knew that she did great work--two things that hiring managers cannot get a sense of through reviewing a stack of resumes from people they don't know.
As a proactive job seeker, you too can also benefit from tapping into this source of unadvertised jobs by developing a networking plan and a strategy to uncover as many high quality opportunities as possible. Some of the benefits of this purposeful approach: getting a jump on the competition, facing less stringent job requirements, and being the first to learn about higher quality, newly created positions that are often tailored to fit the strengths and expertise of high quality candidates.
Focusing on the hidden market through networking is a particularly strong strategy for so called nontraditional candidates such as career changers, older workers, and others who don't fit the mold but are highly qualified and have a passion for the organization's mission. Ways to network can include:
Requesting informational meetings with contacts in companies of interest
Participating in professional and industry groups and associations
Volunteering for targeted opportunities to contribute while building professional relationships
All of these efforts can lead to insight into challenges faced by your industry and ideal companies and spark some ideas for how you might help them.
For some strategies on different ways to incorporate networking in your job search efforts, check out the article on Networking for Quiet Types. (These strategies work even if you're a life-of-the-party type.)
Happy connecting!

Copyright © 2016 Resumes and Career Strategies. All rights reserved.